As if you needed an excuse to take lots of photos.
---
A baby rouses feelings you never even knew existed, bringing both infinite energy and baffling exhaustion to your home. Your heart now exists outside your body and with every coo and cuddle you fall a little deeper in love with your tiny human. Let us help you capture every precious moment and preserve them in a format worthy of the experience, with a MILK Baby Photo Book or Album.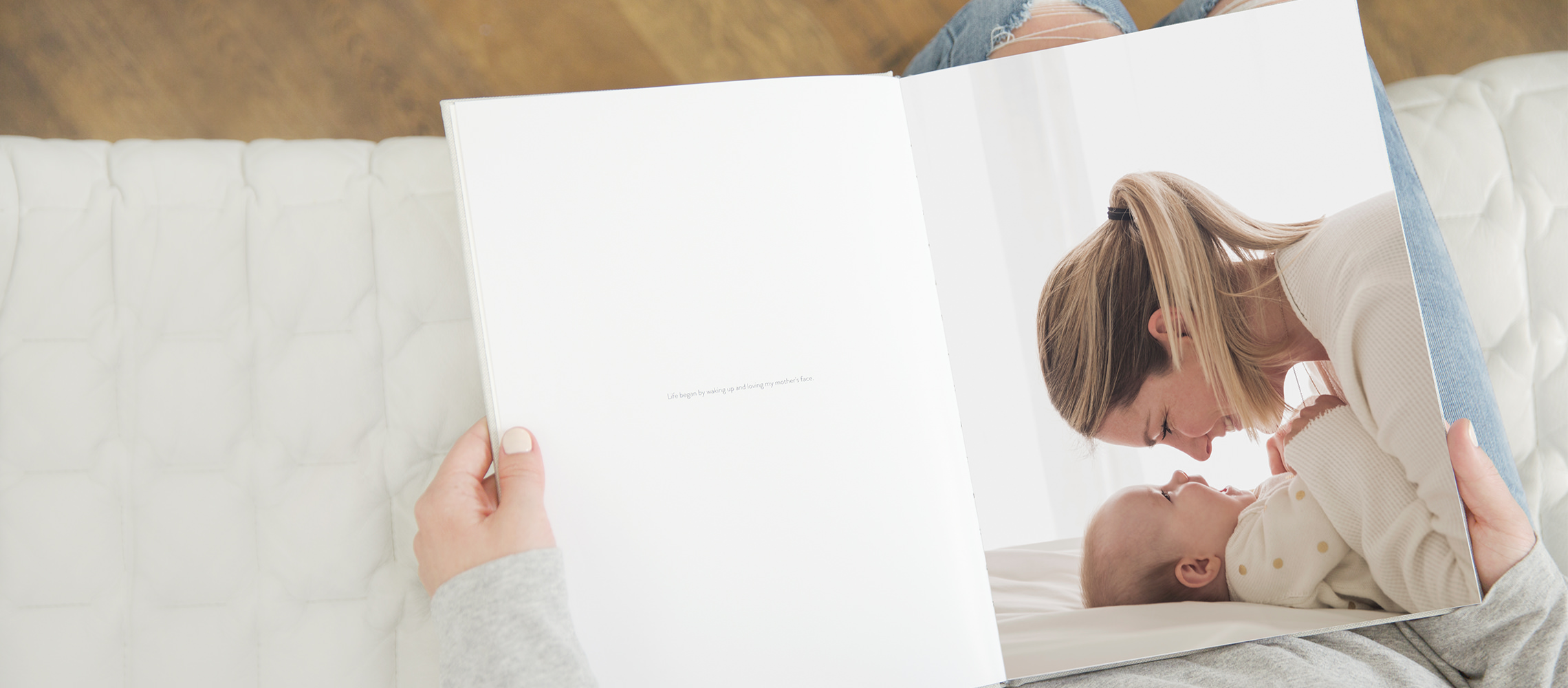 Baby Photo Books
---
Our MILK Baby Photo Books are printed on the finest quality paper and bound with beautiful fabrics to keep those incredibly special first years of your baby's life safe. Create extra copies and gift them to grandparents, aunts and uncles who will treasure them just as much as you do. Leave a blank page for a lock of hair, or a tiny footprint, to add an even more personal touch to your book, and know they will love looking back on their own story as they grow.
Classic Baby Photo Books
---
Our Classic Baby Photo Books are printed on beautiful Satin or Semi-gloss paper and bound in an elegant Classic Linen cover. Feature your most cherished photo on the front and treasure remembering those special moments in your baby's life.
Premium Baby Photo Books
---
Our Premium Baby Photo Books are the ultimate in precious keepsakes. With Metallic Pearl and Metallic Blue–to neutral premium Italian Linen cover options, your memories will be protected on up to 200 pages of archival quality paper, full of your baby's milestones. Plus, add on one of our baby themed Designer Covers to elevate your baby book, available in 11 different colours. 
3 Piece Sets
---
Start your family collection with our Classic 3 Piece Baby Set. This set consists of 1x Classic Medium Photo Album and 2x Classic Small Photo Books, perfect for preserving every precious first. Plus, enjoy this set at a great package price.
Baby Photo Albums
---
The more traditional way to tell the story of your new addition. With board pages which lay perfectly flat, allowing the moments of your baby's first years to unfold. Flush mounted pages, used by professionals, allow your photos to be displayed seamlessly across your album's spreads. Their first birthday, christening and first steps will be kept safe with the addition of a beautiful presentation box.
Classic Baby Photo Albums
---
Every page will tell a story of your baby's first years. The perfect gift for grandparents, aunts and uncles or simply for you to treasure. Affordable, cherished luxury for what matters most in life.
Premium Baby Photo Albums
---
Enjoy reliving the first years of your baby's life as you design a Premium Baby Photo Album that you will love for years. Numerous design and color options printed in 6 colors, means every cherished detail will be brought to life. Add a Designer or Classic cover design to add the perfect finish to your precious album. 
Look inside recent customer baby books
---