11 amazing wedding cake designs
Get inspired by these incredible wedding cake designs from real weddings and real people.
---
When it comes to planning your wedding, choosing a wedding cake is, rather refreshingly, one of the easier decisions you will make. It's also one you can really have some fun with. Traditional or contemporary, one tier or five, it's really up to you and rarely can it go catastrophically wrong. To help you make a cake choice that's right for you, we've compiled a list of amazing wedding cake designs straight from our community gallery.
The thing we love about this list is that it's inspired by real newlyweds that have preserved their wedding days in MILK. Let them inspire your own special wedding cake style. As a key culinary element and highly photographed centerpiece on your special day, your wedding cake should capture the essence and feeling of the day, and will be represented beautifully in your wedding album, to share again and again over the years.
---
1. Minimalist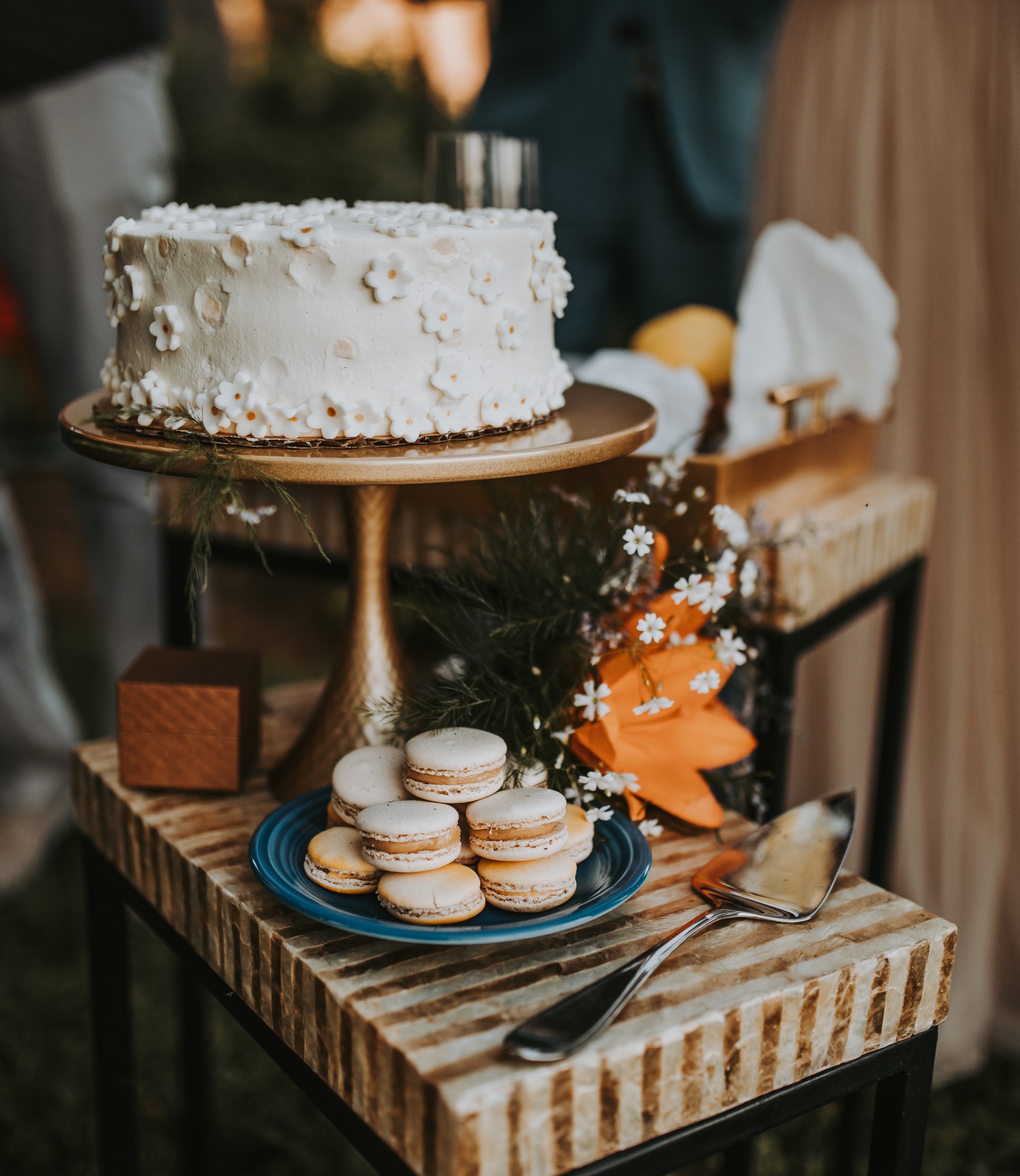 Minimalist wedding cakes are perfect for couples who prefer a clean, crisp design. Elegant simplicity, this style is perfect for both micro weddings and elopements. We love The Prasad's wedding cake - simply decorated with white icing and cute little daisies, it's proof that sometimes less is more.
View the Prasad's wedding album >
---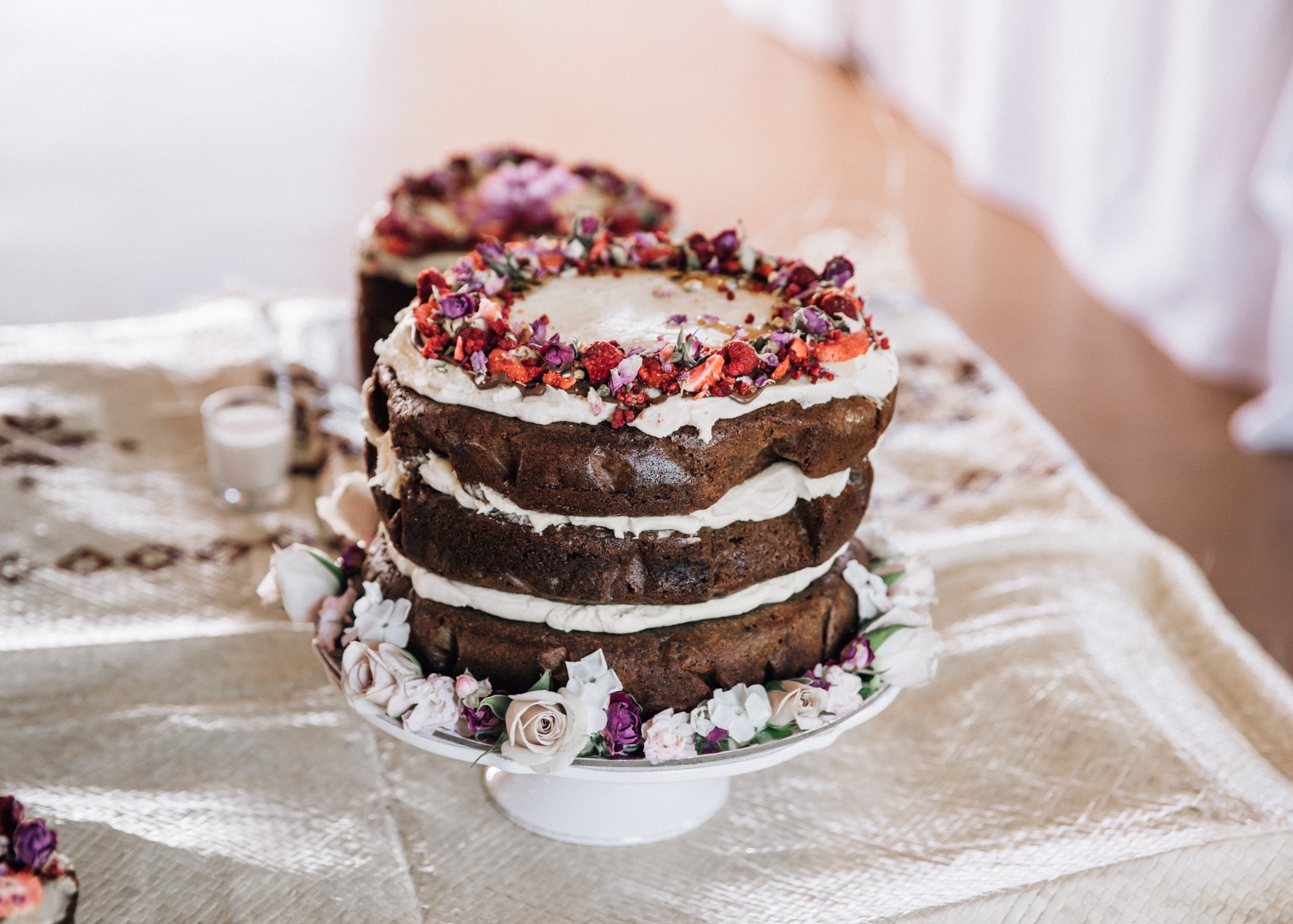 Do you and your one true love exude rustic charm? This style is naturally beautiful with its organic feel, dark and earthy colours, and uneven edges. Naked layers, imperfect frosting and decorations exemplify this assortment of customer wedding cakes – round- and heart-shaped. Sprinkles of delicate flowers, freeze-dried fruit and honey drizzle bring it all together.
View Mr & Mrs. Nuku's wedding album >
---
3. The 'Cheese' cake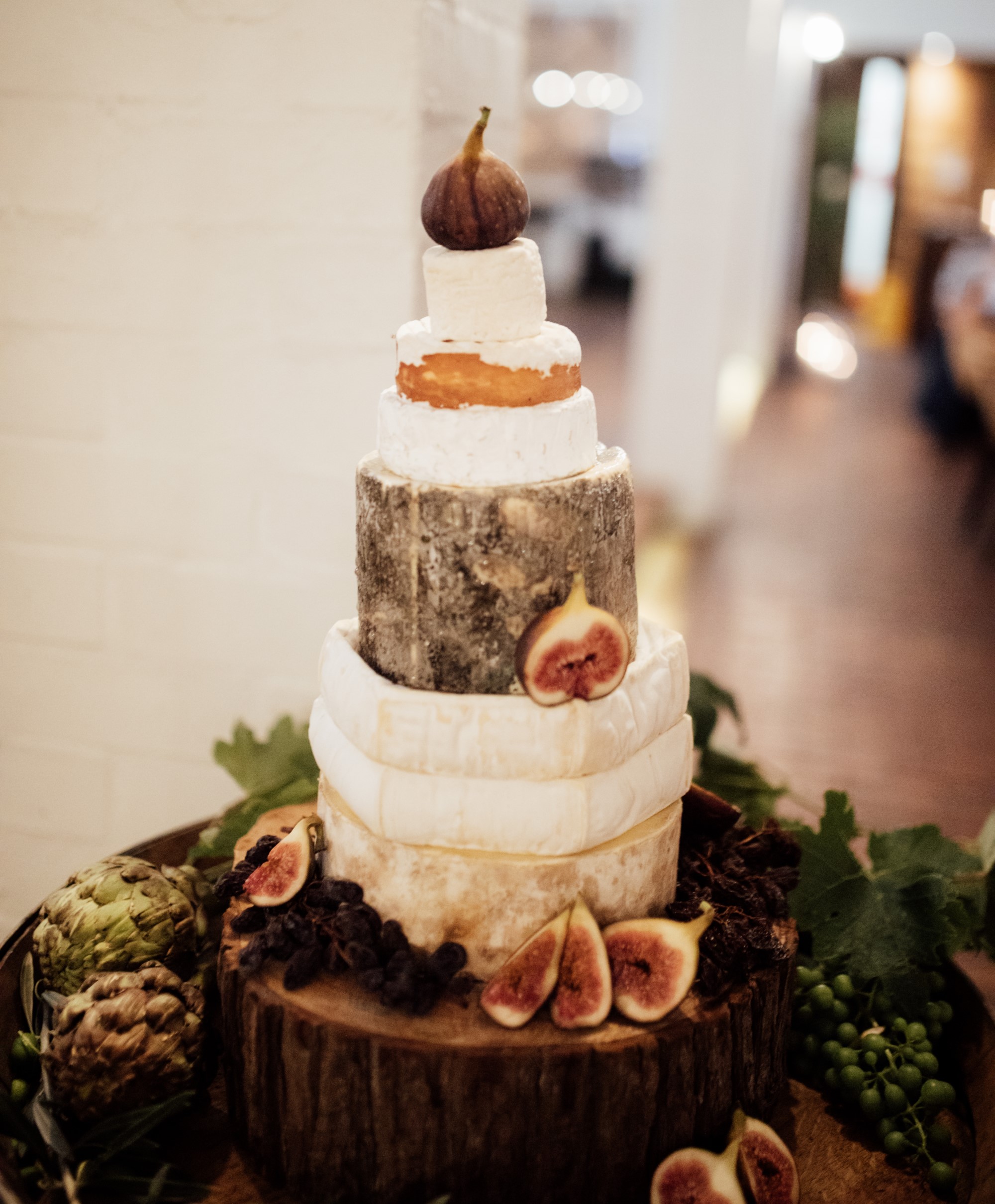 If bucking tradition comes easy to you and your beloved, this gorgeous style will have you stylishly shattering norms. Bring savoury to the realm of sweet and do dessert differently. A tower of brie, camembert, cheddar - a combination of hard and soft cheeses complemented with fruits like figs and grapes is the piece de resistance for couples not sweet on sugar.
View Özhan & Edie's wedding album >
---
4. Quirky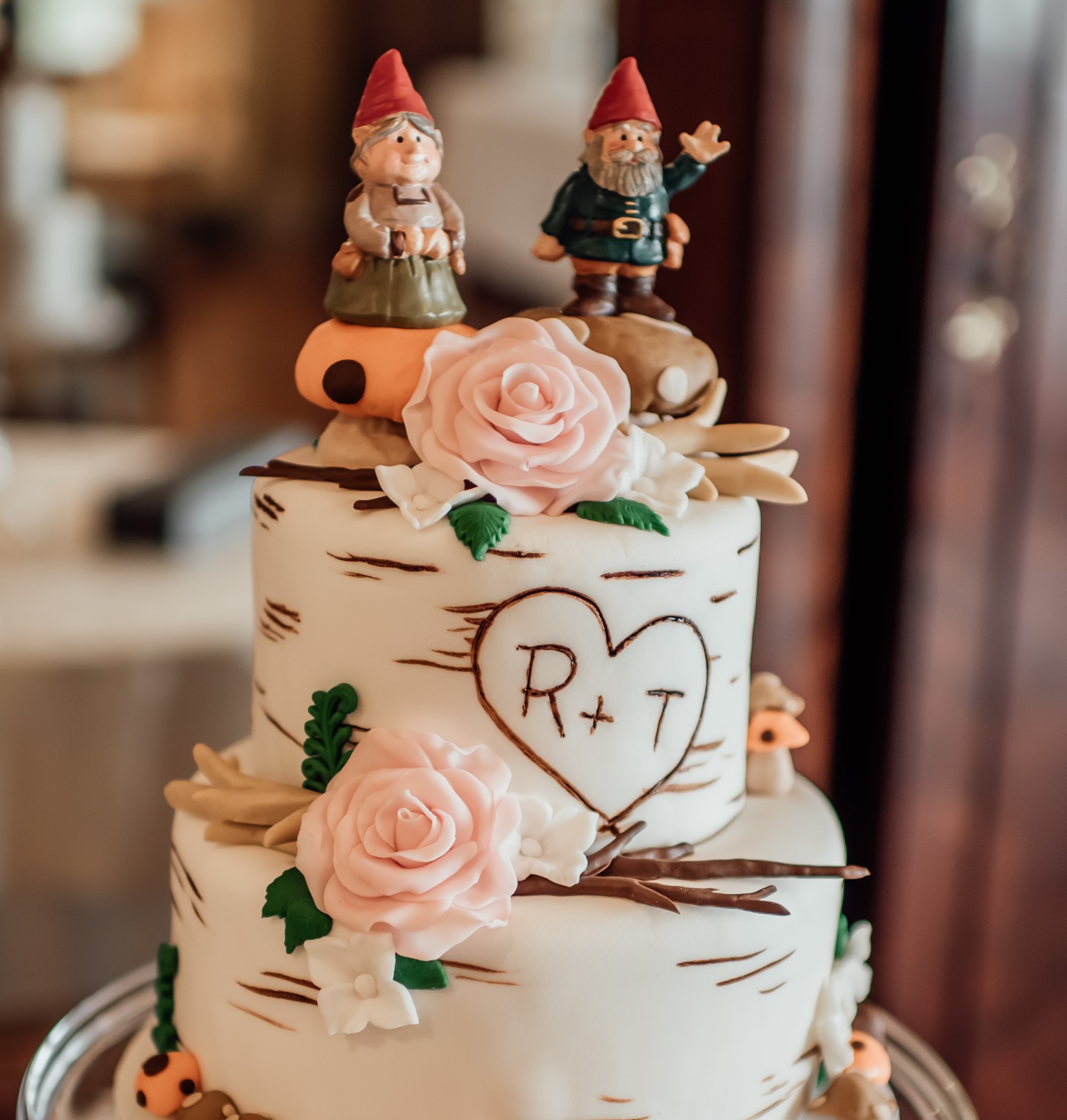 If offbeat and creative describes you and your partner to a tee, why not embrace the image with a unique cake? A themed wedding with a cake to match can be representative of your untamed spirit and include multiple elements without going too far. We absolutely love Rob and Tara's fairy tale wedding cake design masterpiece – wondrously whimsical!
View Rob & Tara's wedding album >
---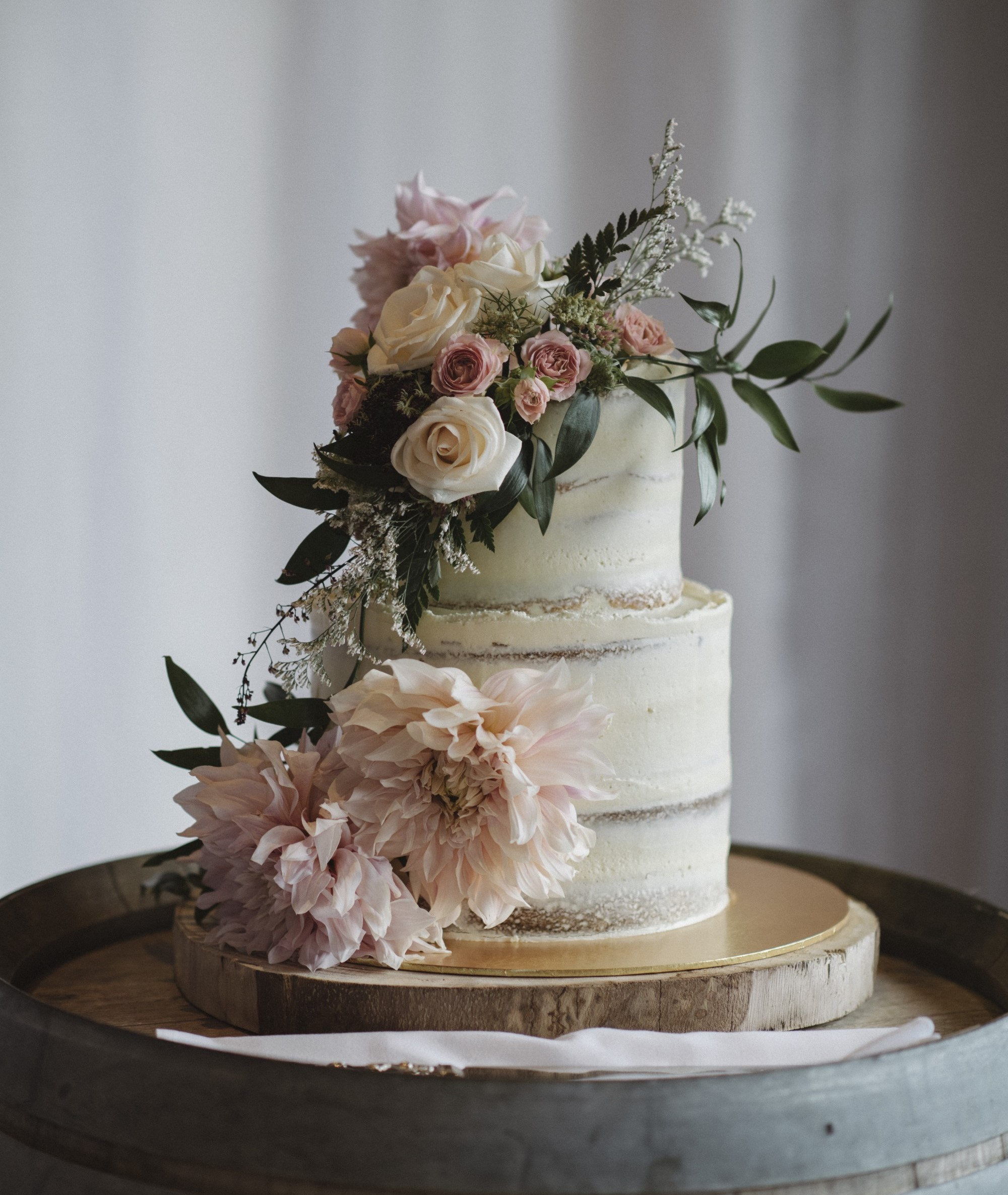 If you and your betrothed can't help but exude classic elegance, a stately cake with naked tiers will deliver the chic without all the fuss. This multi-layered cake goes perfectly with the nuptials of our fabulously photogenic couple, Alice and Yi-Luen. And the floral finale? Stunning.
View Alice Yi-Luen's wedding album >
---
6. Dash of color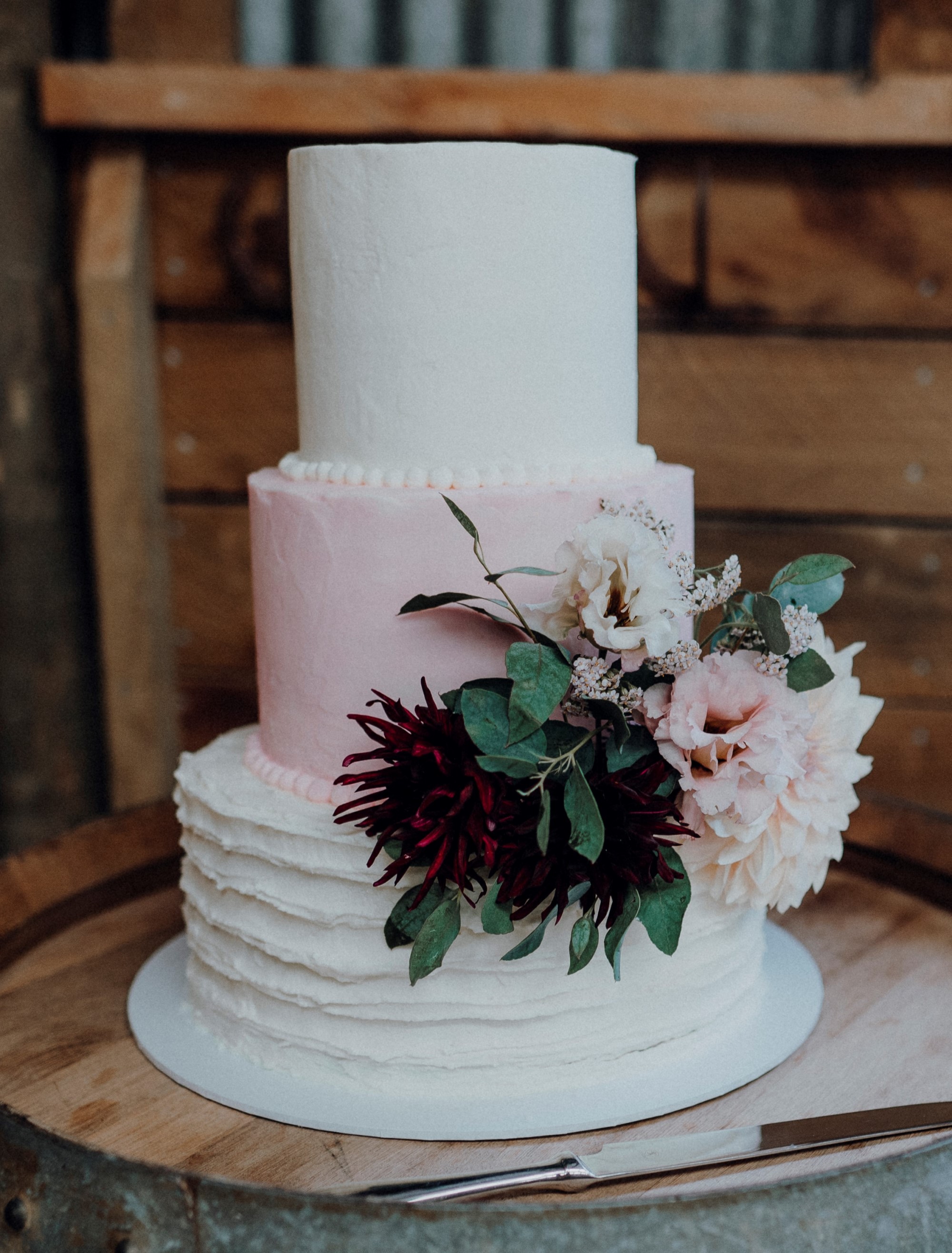 For sophisticated couples with just a little bit of a wild side, there are cakes with color! Pay tribute to all parts of your paired up personality when you opt for a classic design infused with a dash of dye. Brittany and Jordan play this balance perfectly, blending classic white with a pop of baby pink in the middle tier and a wild flower finish.
View Brittany & Jordan's wedding album >
---
7. Practical opulence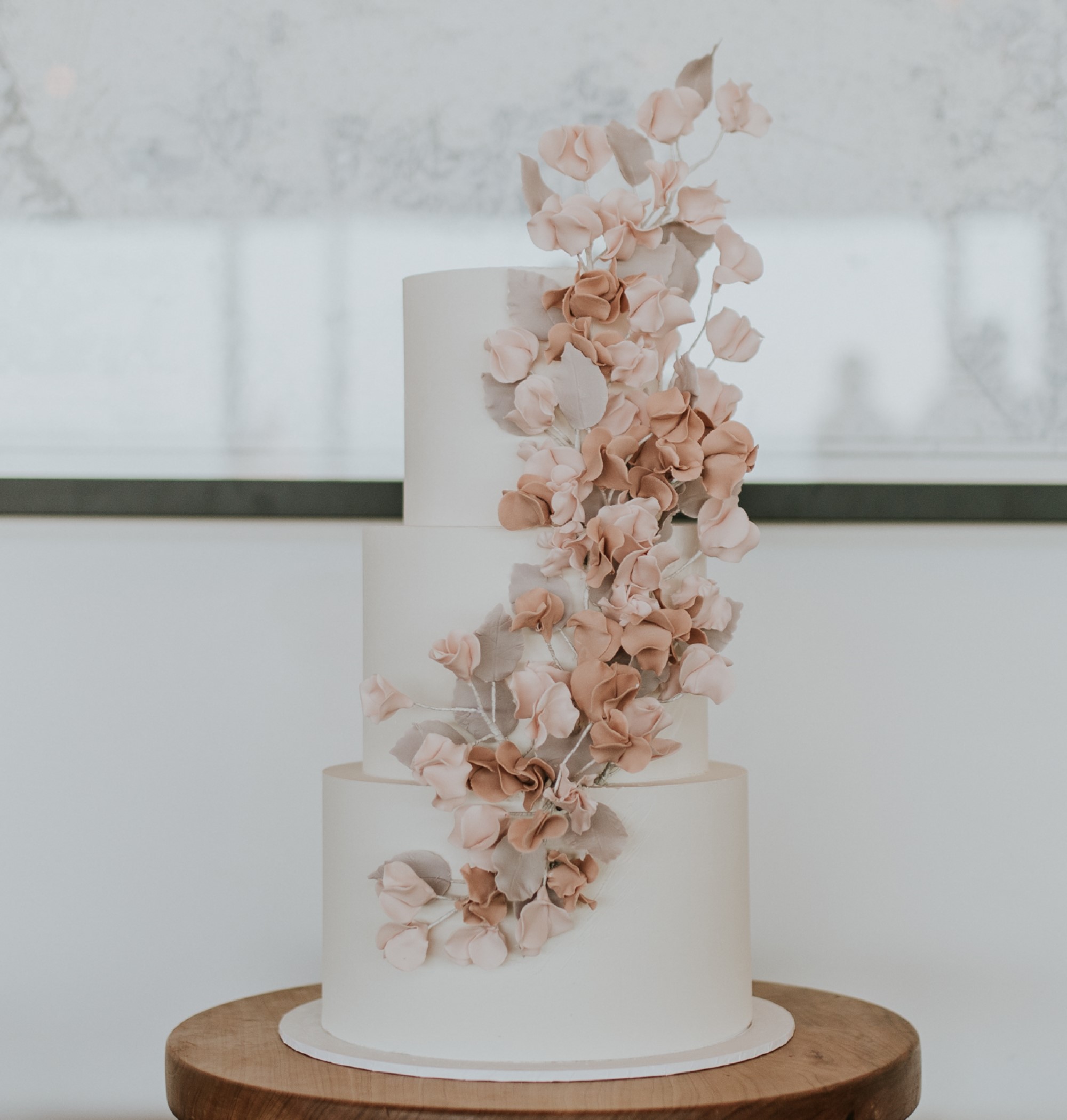 If you've been described more than once as a resourceful couple, you probably know what this phrase means. Perhaps you are used to taking care of things – perfectly, efficiently and never cutting corners. You have a talent for creative presentation whilst staying within your means. Exhibit A: This magnificent cake - big beautiful flowers and all - is edible from top to bottom.
View Gwen & Kevin's wedding album >
---
8. Personal and intimate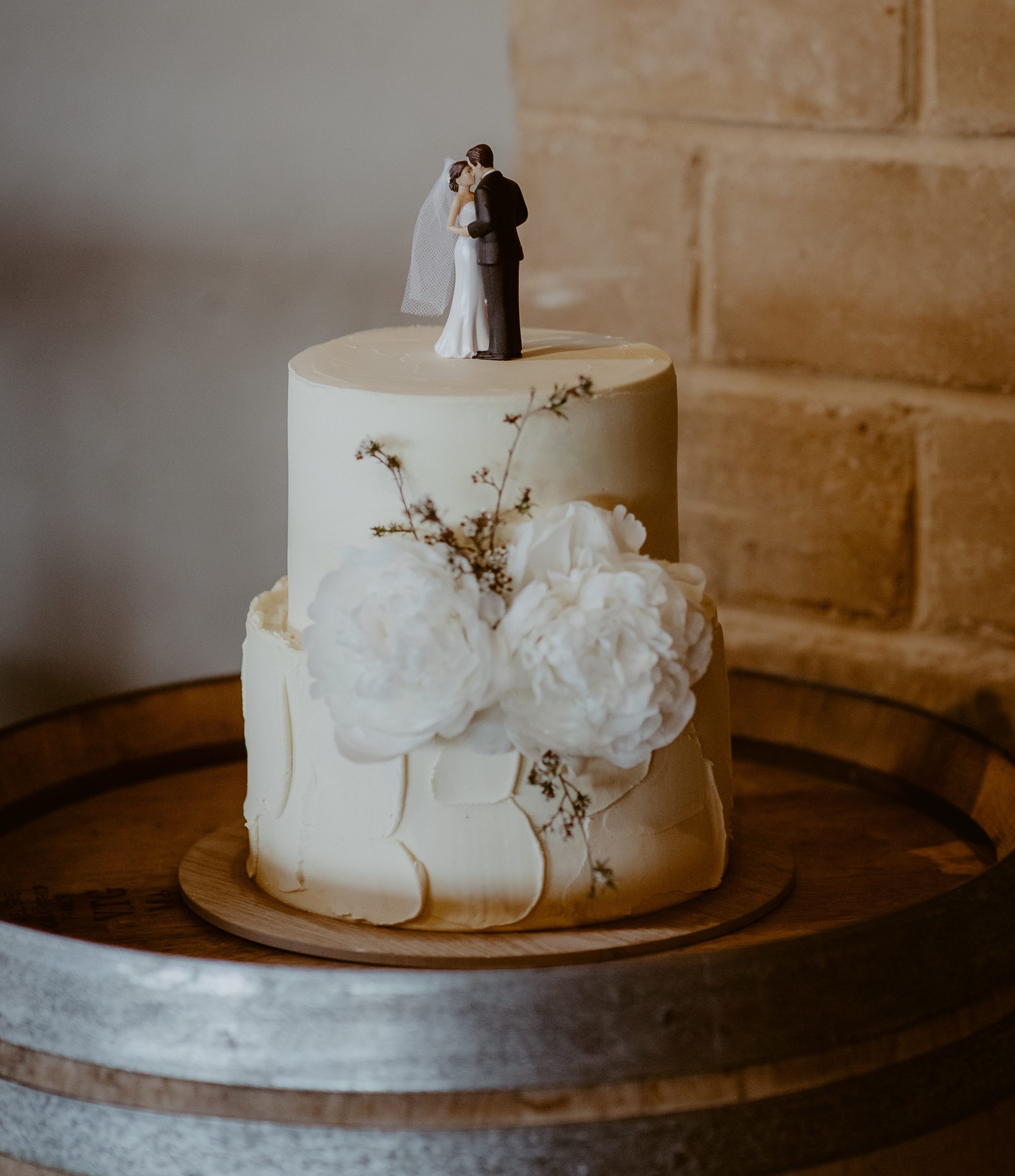 For couples who don't wish to resemble anything or anybody else, but rather want to keep the focus on their unique love story, there are custom wedding cake designs. Personalised decorations are a great way to showcase the essence of your dynamic duo. James and Sheree show us just how it's done with their uncanny wedding cake toppers!
View James & Sheree's wedding album >
---
9. Playful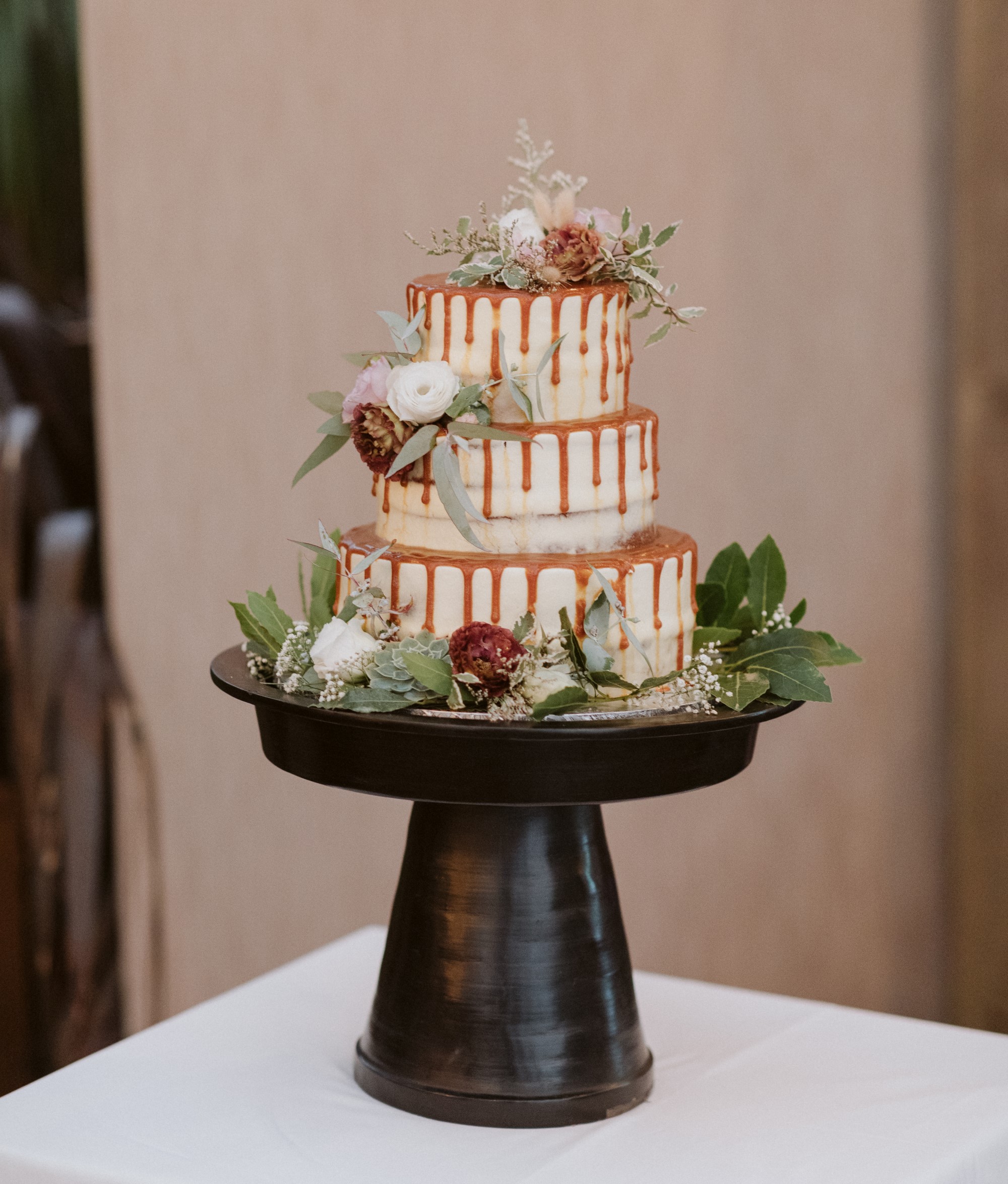 If you're a couple who lives life on the lighter side, you must follow your instincts and let loose. Sometimes you must break the rules, and what better way to let go than a wild wedding cake design? Tom and Lotte manage to bring multiple elements together - caramel drizzle, icing, greenery and florals – without clashing. This is a talent set aside for the truly playful among us.
View Tom & Lotte's wedding album >
---
10. Artistic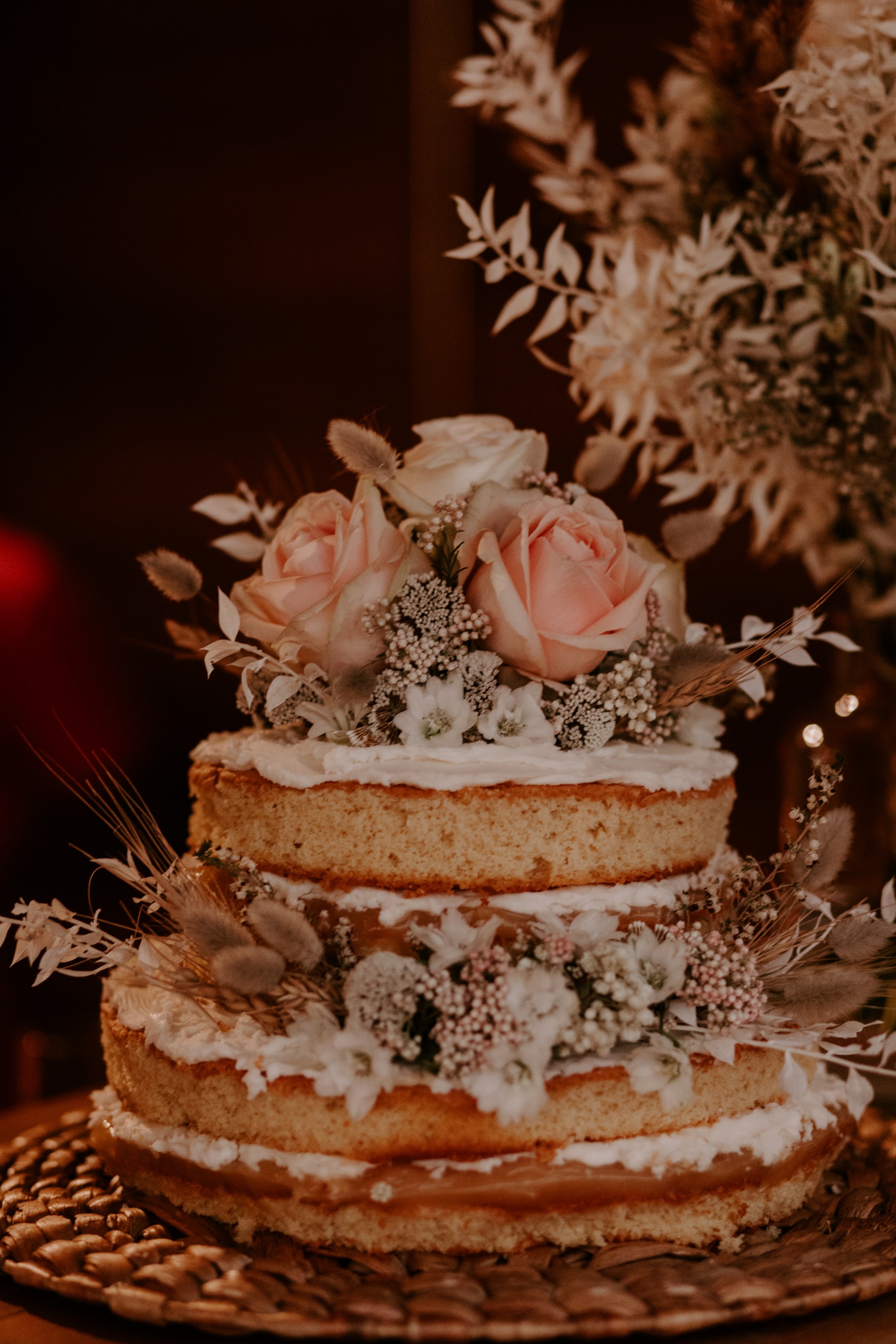 For couples who thrive on creativity, a cake is but a canvas for artistic expression. Aesthetically pleasing whilst conveying a message should be the goal here. The Fenton's deliver with this incredible cake; understated, exposed tiers with cream and caramel peeking through the layers, topped with beautiful pink roses.
View the Fenton's wedding album >
---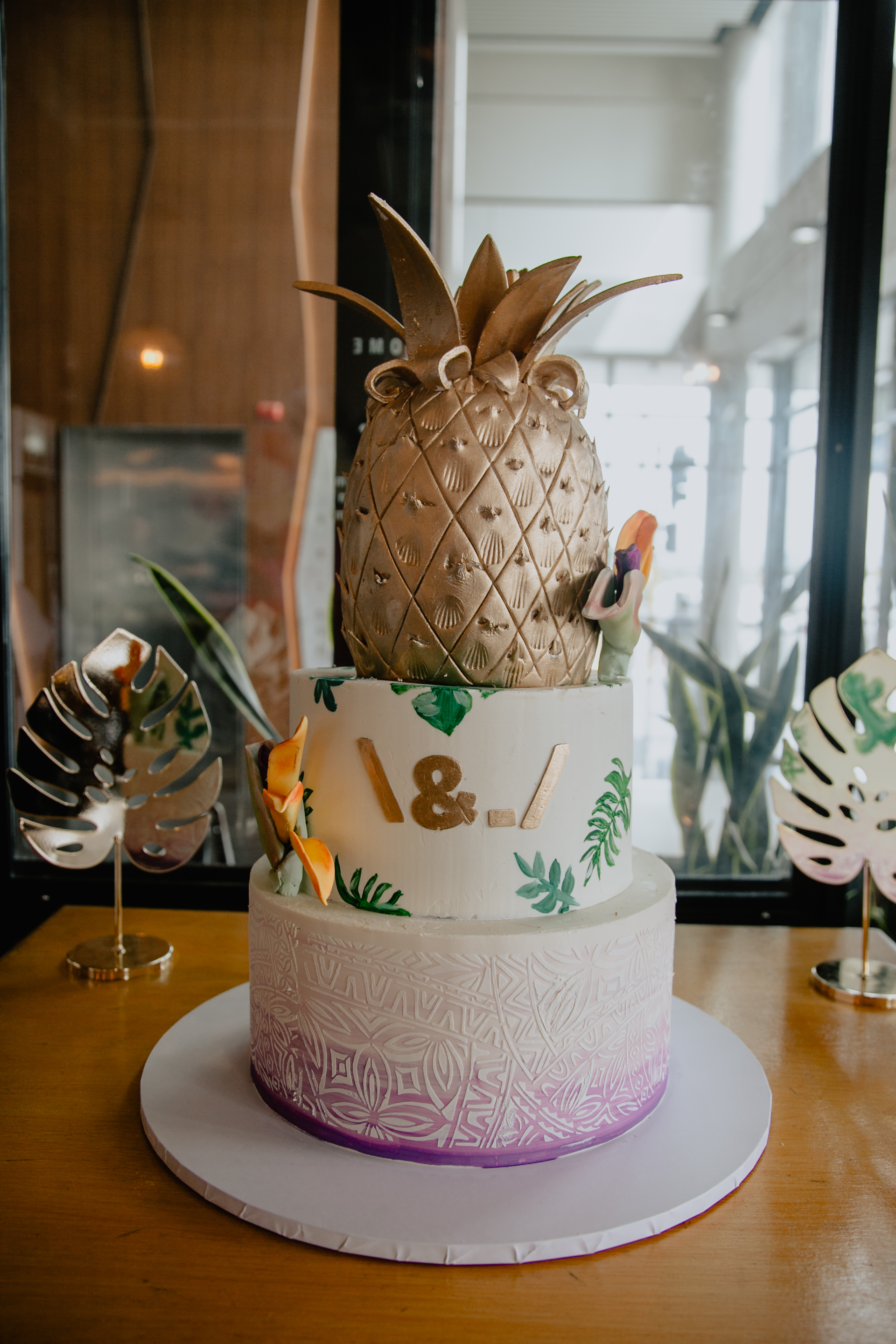 Celebrate each other and your culture with a cake that is wholly and unabashedly 'you'. Vic and Elaine opted for a highly personal cake to celebrate their wedding day with a combination of stunning and unique elements that fit them perfectly. This style is perfect for couples with pride and love for their roots.
View Vic & Elaine's wedding album >
There you have it. Eleven fantastic style ideas to unleash your own creativity in finding the perfect wedding cake design. A bit of extra thought about your essence as a couple now will ensure many years of joy looking through your wedding album and sharing your unique love story with the next generation.
Explore our wedding formats
---