Project Extension for Apple Photos
Make the world's finest photo albums and photo books on macOS.
Introducing MILK for Mac.
---
At MILK, we preserve your precious moments in photo albums and photo books so exquisite and enduring, they'll be a cherished part of your life for generations.
We handcraft each album and book to uncompromising standards using the finest materials, cutting edge print technology and time-honored bookmaking techniques. And now you can create them directly from within the Photos app on your Mac, by downloading the MILK Books project extension for Photos through the Mac App Store.
Designing made easy. Watch how.
---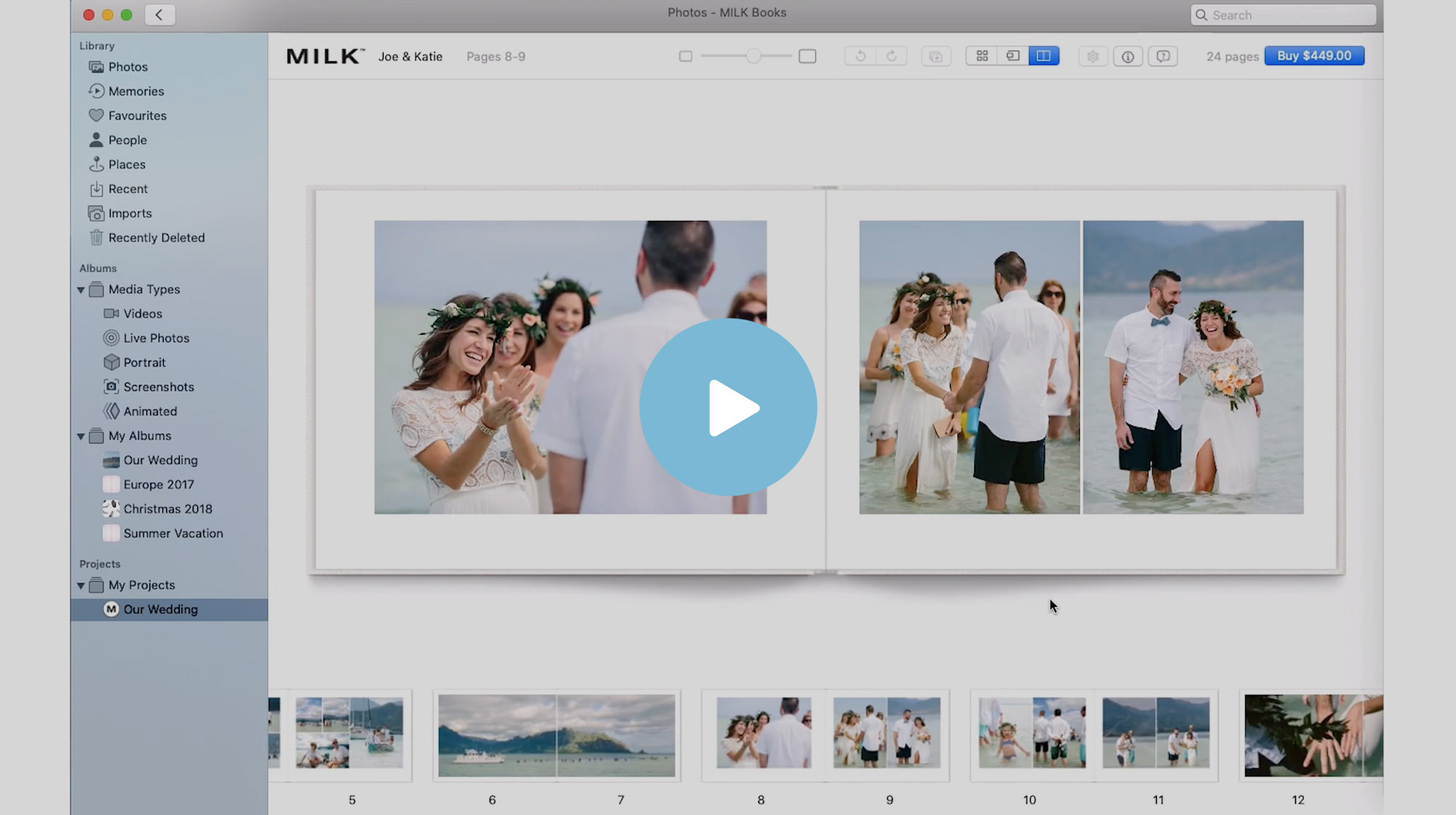 Create faster.
---
The MILK Books Photo App extension is fully integrated with Apple Photos. You don't have to upload your images to start making an album or book - just work with the photos already on your Mac, online or offline. Create from your existing Albums, Memories or Favorites. And with our smart autofill technology and beautiful designer templates, creating is even faster.
Create better.
---
The MILK Books app is wrapped with Apple's core services. There's no need to upload or transfer photos from devices as you have iCloud drive auto-syncing your photos. You can edit your photos with Apple's powerful design tools, with features including red eye reduction, filters, brightness adjustment, image rotation, and much more. You can easily navigate with Apple gestures, and when it's time to checkout, simply use your one-touch Apple ID to sign in and purchase. Everything you love about Apple is there, making the MILK design experience even better.
What you can create with the MILK Books Mac App.
---
Classic Photo Books
---
Classic Photo Books offer quality at an affordable price. With up to 200 paper (flexible) pages you can preserve all of those precious everyday moments. This range boasts 7 linen cover options and 2 paper choices so you can create in Classic style.
Premium Photo Books
---
Premium Photo Books are a great option for family yearbooks, creative portfolios, travel books, baby books and more. Like our Classic Photo Books, they can be made with up to 200 paper (flexible) pages. Each Premium Photo Book is handcrafted with archival quality materials, section sewn binding, and the option of exquisite designer typography covers.
Premium Photo Albums
---
Our Photo Albums are the perfect choice for milestone moments such as weddings and anniversaries. Albums can be made with 24-64 weighty (stiff) board pages and feature flush-mount, lay-flat binding, for incredible panoramic double page spreads. Our Premium Photo Albums are crafted using luxurious archival quality cover fabrics, papers and inks.
---
Important things to note:
---
• As of yet, you cannot create Classic Photo Albums, Canvases, Frames, Art Prints or Cards on the app.
• Portrait formats are also not currently available to create.
• The following add-ons are not available for projects created via the extension: Spine text, Jackets and Presentation Boxes.
• Online photo flipbooks are not yet available for projects created via the app.
• If you have a MILK Voucher you would like to redeem via the extension, you must first contact support.
Get started in 3 easy steps.
---