You asked. And we delivered.
---
 Our customers invest a lot of time, energy and love into their books, so we wanted to find out where our customers felt we could improve on the process. Through a comprehensive customer survey, we found the biggest requests you had, were regarding our designer layouts.
With your feedback in mind, we have added three exciting new enhancements to our layouts that we know you'll love:
---
1. New centered layouts.
---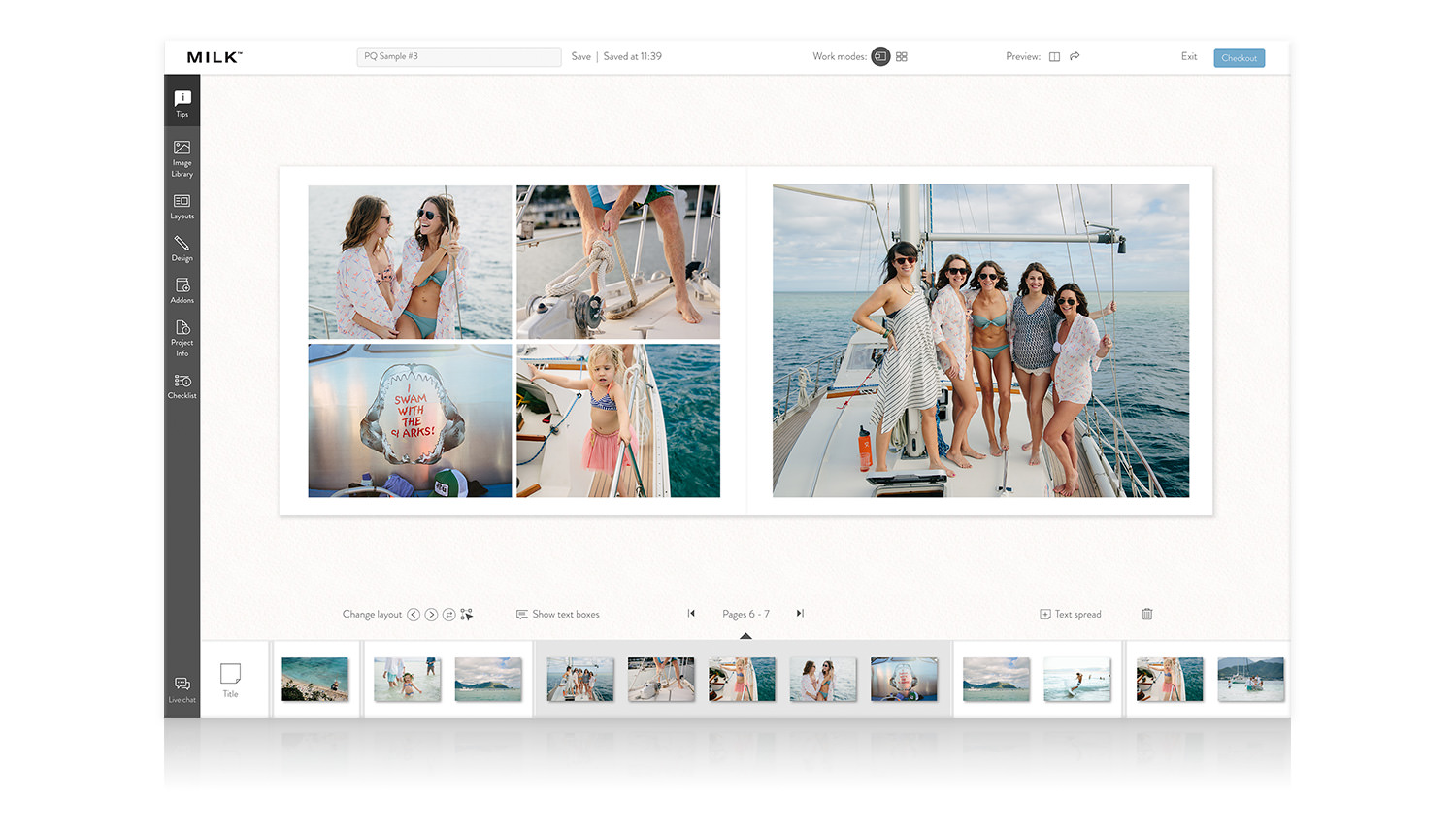 Customers creating one of our landscape books will notice new centered layout options for those that prefer more classically centered images, that take up more of the page.
The new centered templates are more like traditional photo album layouts, where the image is large and centered on the page and surrounding "white space" (or blank areas of the page), is kept to a minimum.
2. New free-transform mode.
---
With the introduction of the new free-transform mode across our entire range, you can now modify the placement, size and position of your images in our templates. Let your creative eye take charge and your unique creative signature be seen in the pages of your MILK Photo Book or Album with this incredible new function.
So how does it work? Find the answers below:
Where to find the new free-transform function?
The free-transform icon appears as an arrowhead inside an expandable cube to the bottom-left of the default work mode.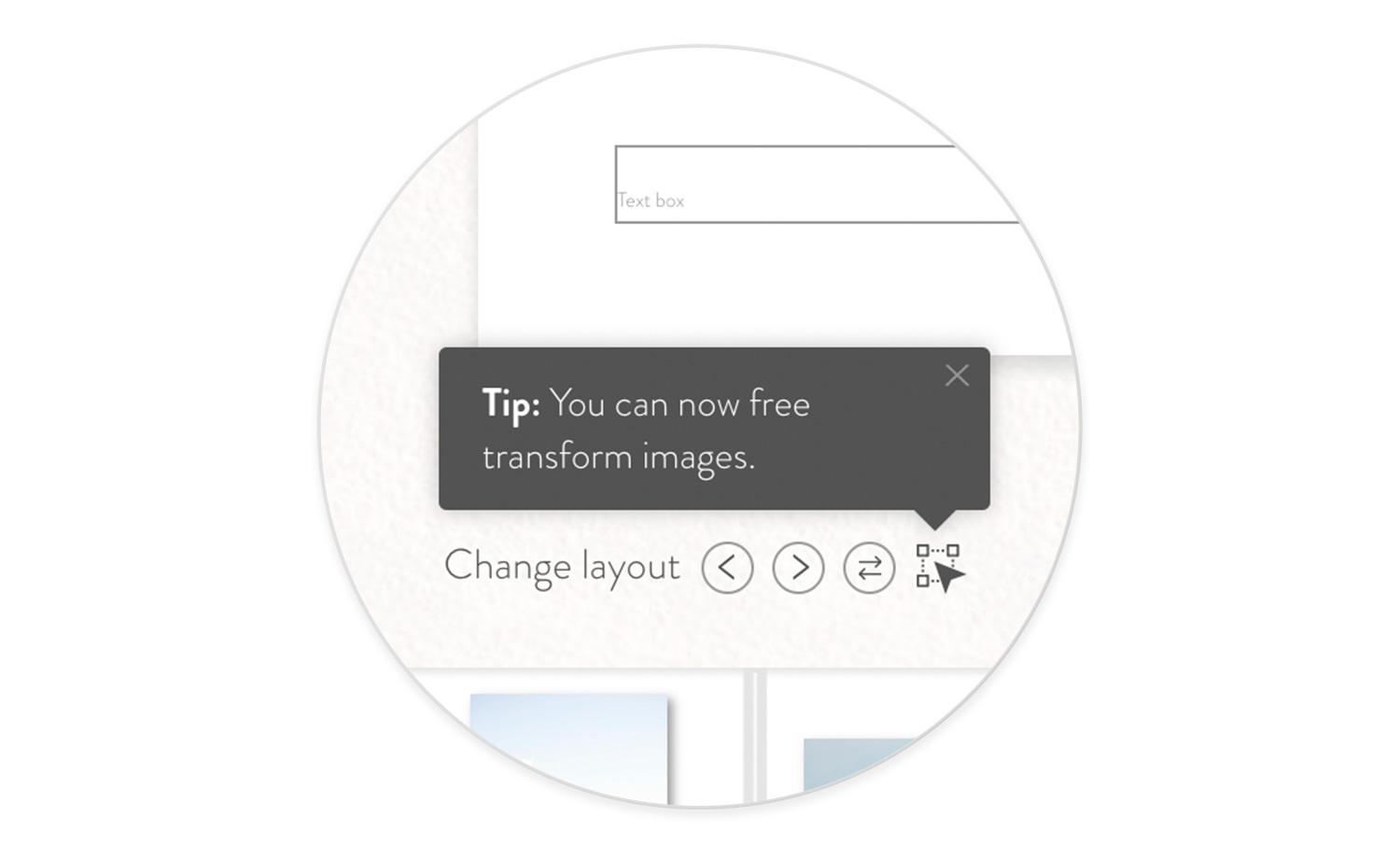 ---
What does the free-transform mode allow me to do?
Using the free-transform mode allows you to adjust the image size, position and placement of your images exactly to your liking.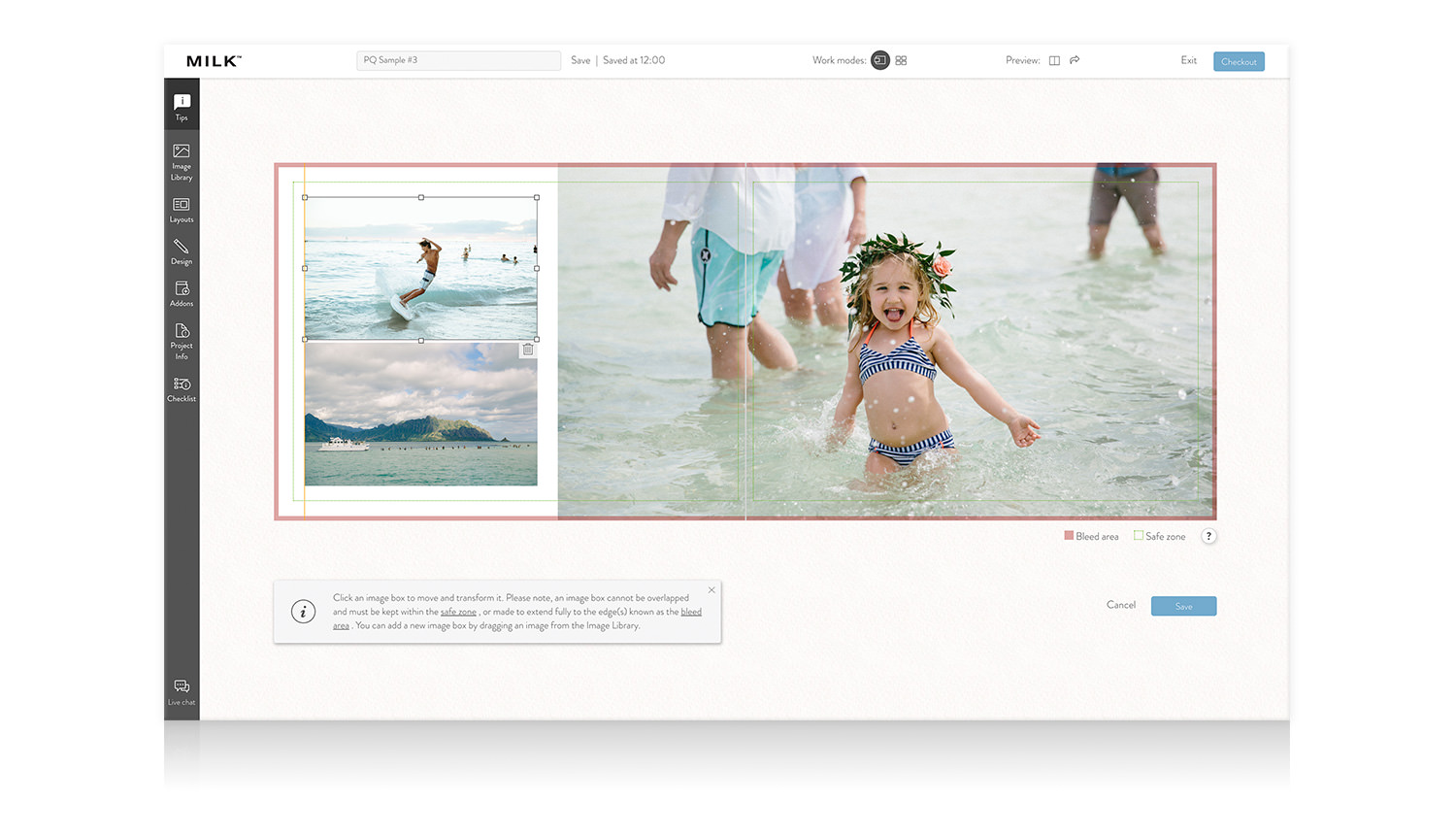 ---
Does free-transform mode allow full customization?
Yes, however with medium landscape MILK Classic and Moleskine Photo Books, you aren't able to print to the edge of the page (for production reasons), and at this stage (across all formats), you aren't able to overlap images.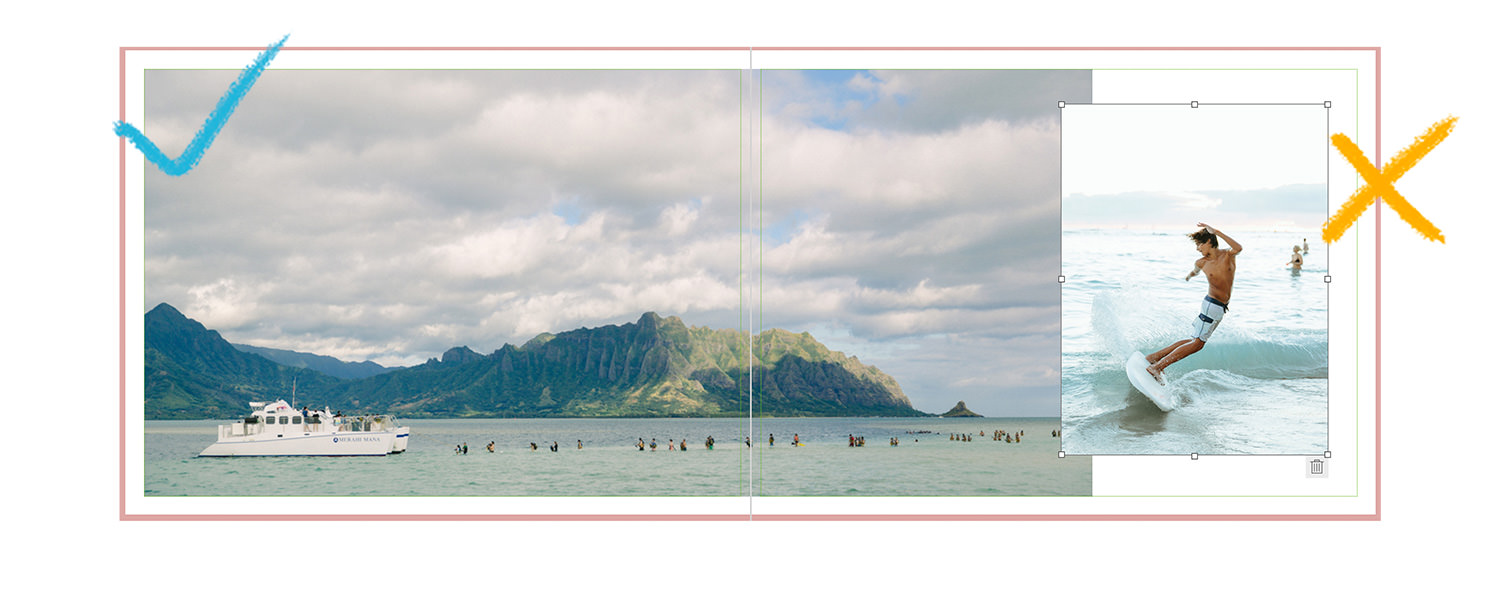 ---
Are there any design guides to help me position my images?
We have a 'safe zone' marked out with a dotted line. Keep critical content such as people's faces within the safe zone to avoid undesirable cropping. There are also orange guidelines that enable you to align to the 'safe zone', page edge and center-line/gutter.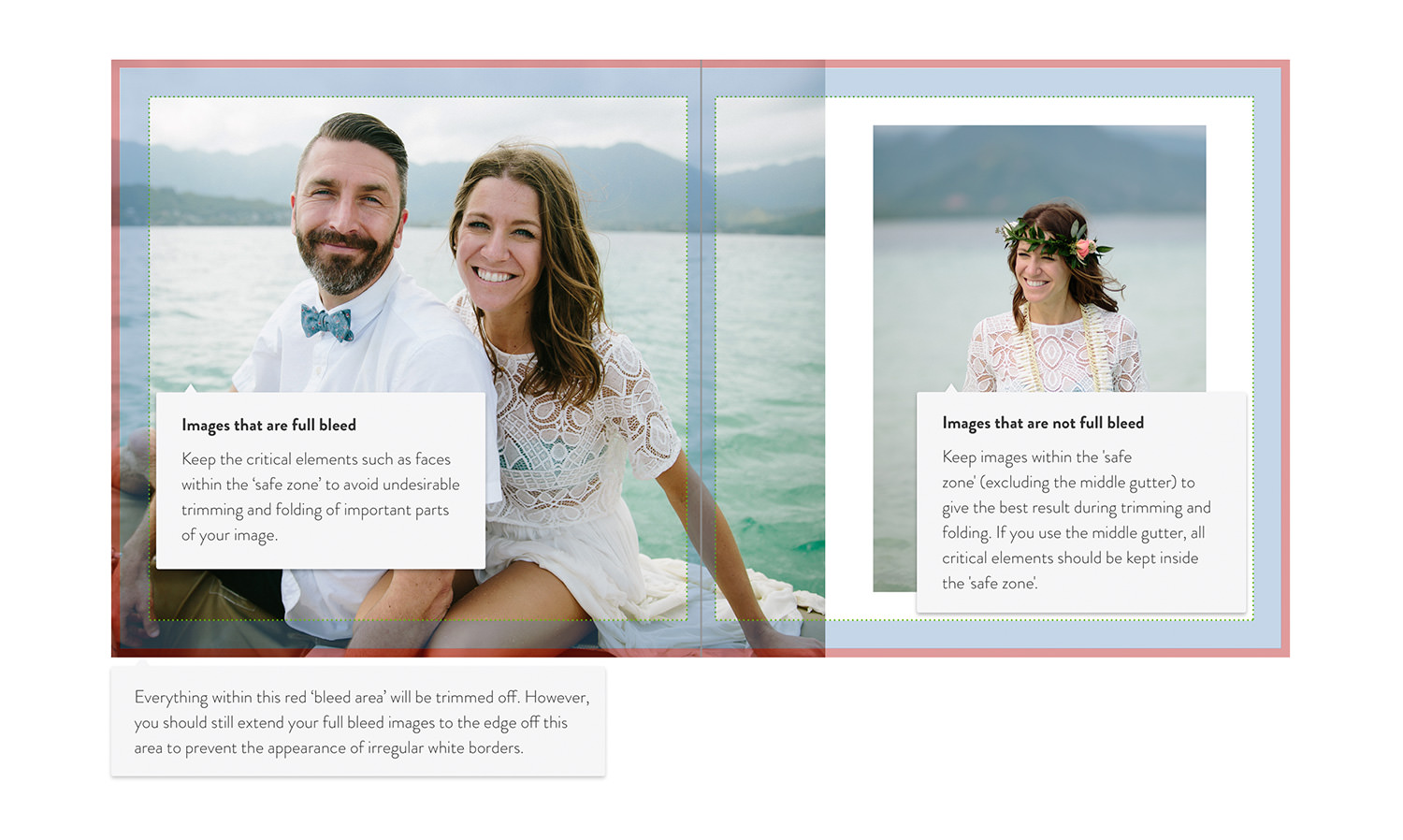 ---
Do I need to consider anything production-wise, in regards to my layout choices?
The 'bleed area' or area that will be trimmed, is automatically allocated and highlighted in pink-red in free-transform mode, so that you can visually see the areas of your image that will be trimmed during production.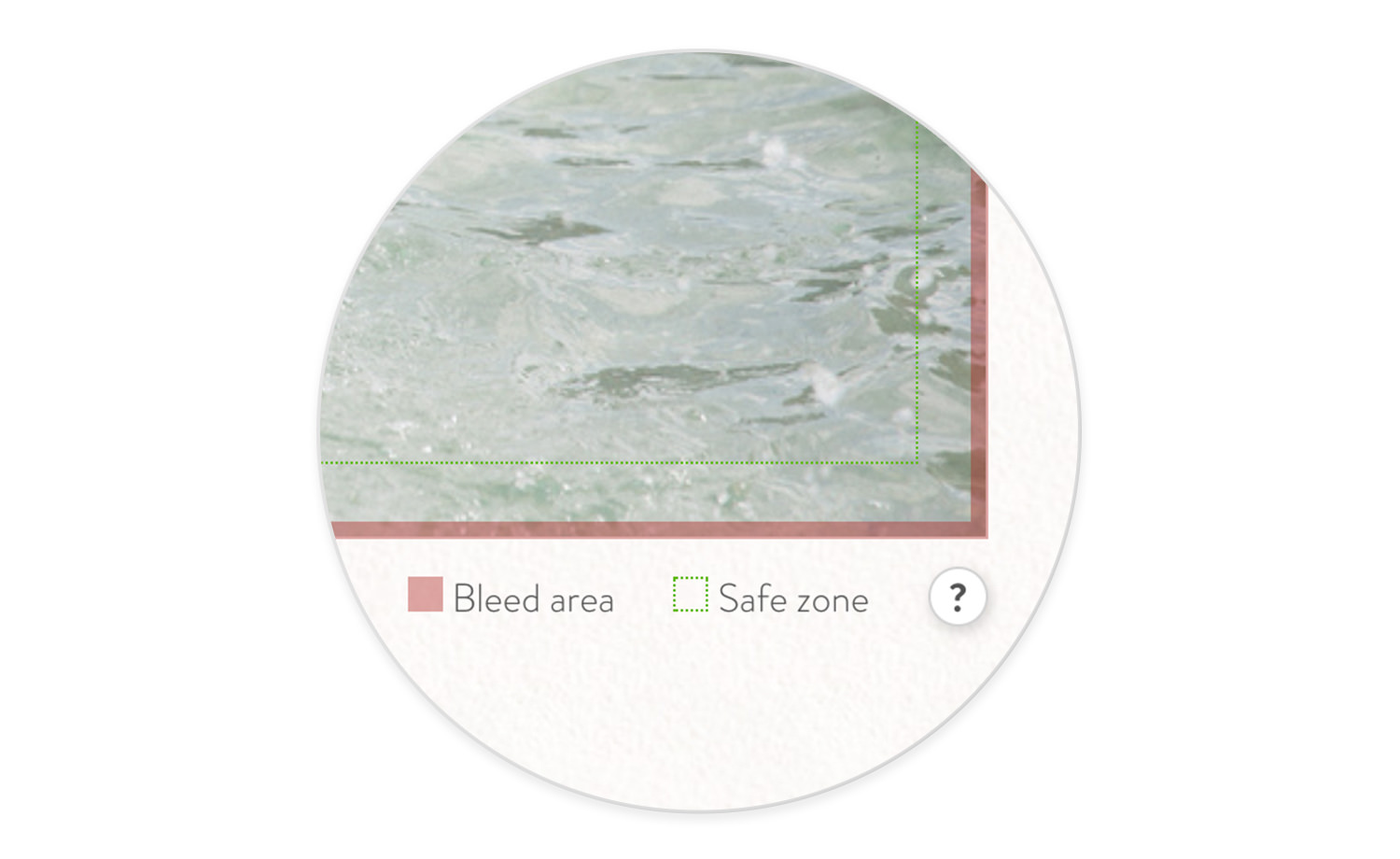 3. New 3:2 aspect ratio.
---

Professional photographers and photography enthusiasts alike will appreciate the recent addition of image frames in the 3:2 image aspect ratio across our landscape formats.
If you've got a collection of old, scanned photos taken on a classic 35 mm camera, or have a collection of photos taken on the modern DSLR equivalent, you can now select layouts with a 3:2 image aspect ratio, to complement the ratio of your images.
This means, that we now have pre-designed templates that will fit proportionally to your 3:2 ratio images, ultimately reducing the amount of image cropping that occurs.
4. New print quality improvements.
---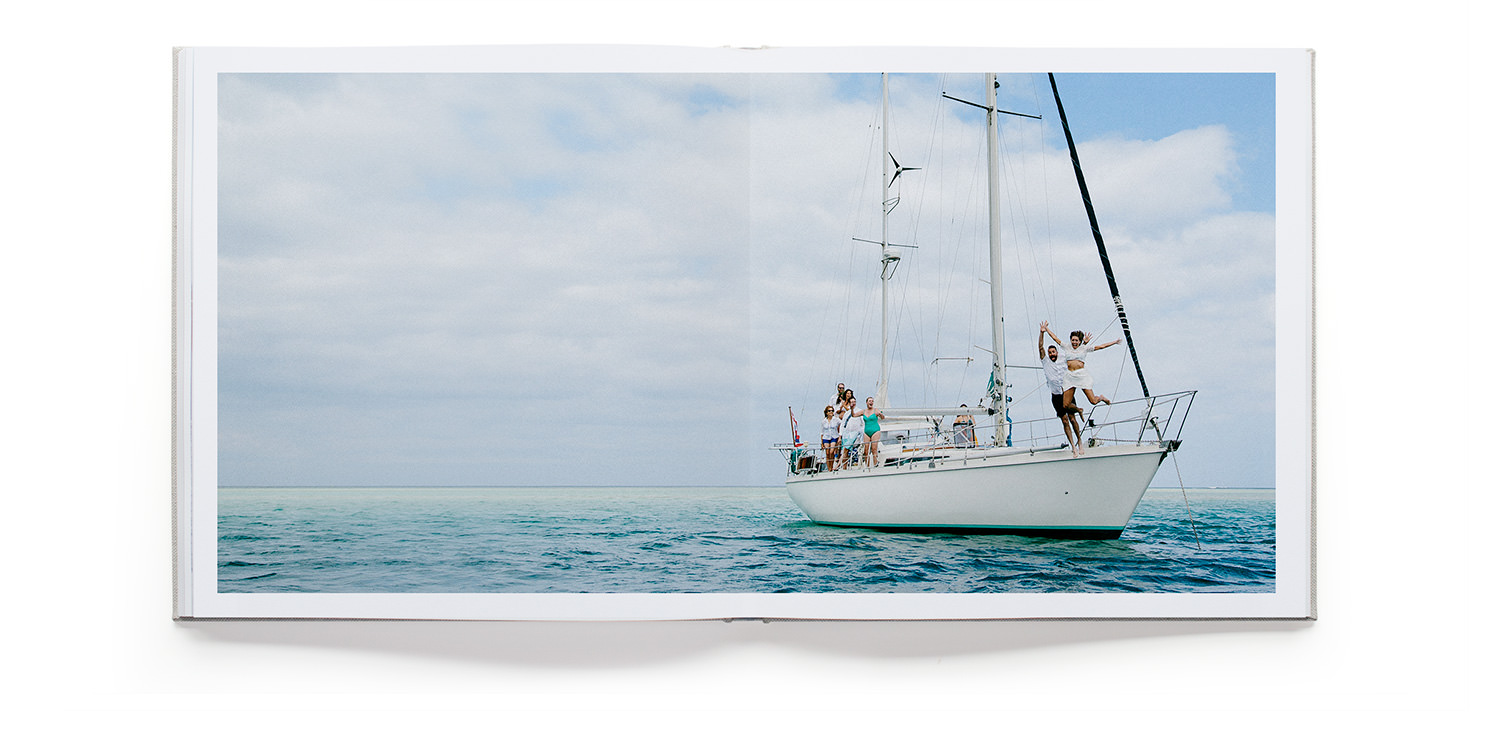 MILK has recently upgraded to an innovative wide-gamut RGB workflow. This means we can now print to match your original images closer than ever before with more vivid, saturated colors and smoother skin tones and gradients. We're also now able to support wider gamut RGB color profiles (such as Adobe RGB) so you're not limited to sRGB.
For a more comprehensive overview on the effects of this change please read our Printing Process page.
---
Further notes and Terms of Use:
---
Further notes on the addition of centered layouts:
These new centered layouts will be added to our portrait and square formats in the near future.
Further notes regarding free-transform:
If using the free-transform tool, we highly recommend double-checking alignments and margins etc. before printing, as you (the customer), are fully responsible for the final result. MILK Books takes no responsibility for any issues that arise due to your creative authority resulting in an unsatisfactory design. Therefore, the free-transform tool is intended primarily for advanced users.
In future, text-boxes will be editable in this mode also, so keep an eye out for further updates.
Further notes on the addition of the 3:2 image aspect ratio:
The option to select 3:2 ratio image templates will be added to our portrait and square formats in the near future.
---